Our offer for
Kindergarten & school groups
There is nothing nicer than exploring our Familypark together with friends and even better, with their entire school or nursery class.  Familypark offers the best deals to suit your requirements.  It is even cheaper if you visit in April, September or October.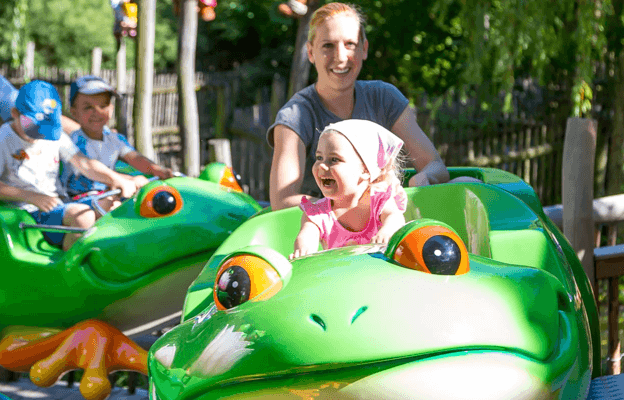 Prices per child
| | Peak season (May, June, July) | Low season (April, September, October) |
| --- | --- | --- |
| without meal | € 22,00 | € 19,00 |
| with meal | € 28,00 | € 25,00 |
For every 10 paying children, 1 accompanying person is entitled to free park entry. All additional accompanying persons pay a reduced park entry price of € 25,00.  The bus driver gets free admission and receives a snack voucher to the value of € 4,00.
Children's menu
| | Food | Allergens |
| --- | --- | --- |
| Meal 1 | Sliced Turkey with carrots and mashed potatoes & drink (0.3l) | G |
| Meal 2 | Spiral noodles with herbal-tomato sauce & drink (0.3l) | A,C |
| Meal 3 | Chicken nuggets and chips with ketchup & drink (0.3l) | A,L,M |
| Meal 4 | Cevapcici with chips & drink (0.3l) | A,M |
You can find the allergy information here.
On request we can also prepare meals for those with allergies.
If pre-ordering, we are able to provide alternative side dishes. Adults are requested to order their meals separately in the restaurant.  We are happy to reserve a table for groups, which have ordered children's meals. We request that you arrive at the restaurant punctually so we can guarantee your reservation. It is not possible to reserve tables for later than 11 am in July!
More important information
Our group offer is very popular!
Please make your reservation well in advance and ideally via our online registration form. Your reservation is only valid once you have received written confirmation from Familypark. Bookings are processed during our normal office hours.
Group offers for school classes and kindergartens are only valid from Monday to Friday. All offers apply from 10 children. If there are fewer than 10 children in attendance on the day of the visit, the group price can only be honoured if 10 children are paid for.
Cancellations must be made by 9 a.m. on the day of your visit at the very latest.
More important information about your booking and/or cancellation can be found here
School and kindergarten group
Booking request
Thank you for your inquiry!
We will contact you shortly via email.